Spice Up Your Love Life with Sakulove Couples Vibrator - A Guide to Using and Enjoying this Intimate Toy
Spice Up Your Love Life with Sakulove Couples Vibrator - A Guide to Using and Enjoying this Intimate Toy
Are you looking to spice things up in the bedroom with your partner? A couples vibrator can be just the thing to take your intimacy to the next level. If you're new to this type of toy, don't worry! We've got you covered with everything you need to know about using a couples vibrator, including how to use the Sakulove Couples Vibrator.
What is a Couples Vibrator?
A couples vibrator is a sex toy designed to be used during partnered sex to enhance pleasure for both partners. The Sakulove Couples Vibrator, for example, is a hands-free toy that provides stimulation to both the clitoris and G-spot during intercourse. The unique design allows for hands-free use, so you and your partner can focus on each other and the sensations, rather than maneuvering a toy.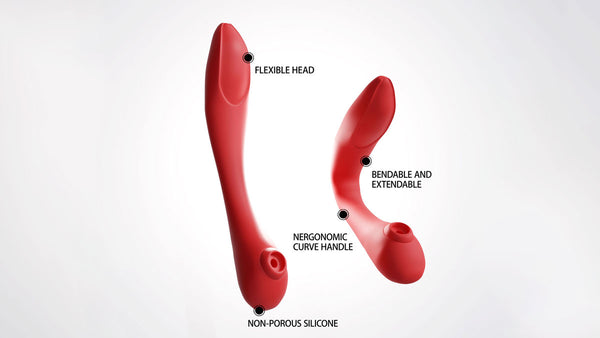 How to Use the Sakulove Couples Vibrator
Before you get started, make sure the Sakulove Couples Vibrator is fully charged using the included USB cable. Once it's charged up, it's time to get things going!
Apply Lubricant: Using water-based lubricant, apply a small amount to the vibrator and to your partner's penis.
Insert the Vibrator: Insert the smaller end of the vibrator into the vagina, making sure it sits comfortably against the G-spot. The larger end of the vibrator should rest against the clitoris.
Get Into Position: Get into your preferred sex position, making sure the vibrator stays in place. The Sakulove Couples Vibrator is designed to stay put, so you won't need to worry about adjusting it during sex.
Turn it On: Press and hold the power button for three seconds to turn on the vibrator. It comes with ten different vibration modes, so experiment with them to find the one that works best for you.
Enjoy: With the vibrator in place, enjoy the heightened sensations and enhanced pleasure during sex with your partner. The Sakulove Couples Vibrator allows for hands-free use, so you can focus on the moment and the experience.
Tips for Using a Couples Vibrator
Here are some tips to make the most of your couples vibrator experience:
Communicate with Your Partner: Using a couples vibrator can be a new experience for both partners, so make sure to communicate throughout the process. Discuss what feels good, what doesn't, and any adjustments that may need to be made.
Experiment with Positions: While the Sakulove Couples Vibrator is designed to work with a variety of sex positions, you may find that some work better than others. Experiment with different positions to find what works best for you and your partner.
Use Plenty of Lubricant: Using plenty of water-based lubricant will make the experience more comfortable and pleasurable for both partners.
Clean Your Toy: After use, make sure to clean your Sakulove Couples Vibrator with a sex toy cleaner to keep it in good condition for future use.
In conclusion, using a couples vibrator like the Sakulove Couples Vibrator can be a great way to enhance intimacy and pleasure between partners. With a little communication and experimentation, you and your partner can discover new heights of pleasure together. So why not give it a try and take your intimacy to the next level with Sakulove Couples Vibrator?